Lorenzo Turri (born 9 February 1999) is an Italian racing driver who races in the British Touring Car Championship for Ford. He won the 1991 and 1992 Touring Car World Cup as well as the 1992 British Touring Car Championship driving for Vauxhall and the 1993 British Touring Car Championship champion for Ford.
Early Life
Edit
Turri was born on 9 February 1999 in Rovigo, Italy
Touring Cars
Edit
British Touring Car Championship
Edit
Turri joined the Mitsubishi Works Team from 7th Round of the 1991 British Touring Car Championship at Knockhill. Turri made an immediate impact by winning his second ever race in the series. He would claim 3 more wins before the end of the season finishing an impressive 6th in the Overall Drivers championship when only competing in half of the races. Mitsubishi announced before the end of the season that they were leaving the championship so Turri managed to sign a deal to drive for Vauxhall Sport in 1992.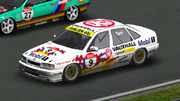 In 1992, Turri raced alongside
Kris Simton
as the Vauxhall team aimed to be more competitive following a dissapointing 1991. Turri dominated the 1992 season winning 19 out of 27 races with the only real competition for race wins coming from
Roy Cop
,
Mike Bell
and
Johannes Meles
. Turri helped Vauxhall to the team's championship before announcing he was leaving for the new
Ford
team for
1993
.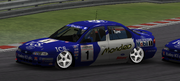 Turri joined the new Ford team for 1993 and was joined by 1991 champion Cop, and were dubbed as the 'Dream Team' and began the season as favourites for the title. Despite Cop leaving the team mid-season, Turri and Ford became the combination to beat, clocking up a total of 26 podiums including 13 wins, 8 pole positions and 12 fastest laps. At the midway point of the season, it was a tight battle between Turri and Nissan's Bell, however Turri managed to continue his early form into the second half of the season and managing to successfully defend his championship title. After the final race of the season, Turri announced he would be leaving Ford to join Alfa Corse for the 1994 season.
Touring Car World Cup
Edit
In 1991, Turri became the first ever STSR Touring Car World Cup champion driving for Vauxhall Sport by winning both races at the Circuit de Catalunya in Barcelona. Turri also helped Vauxhall win the Manufacturers title and Italy win the Nations.
A year later in 1992, Turri once again became World Champion driving for Vauxhall. Turri took pole and won both races as well as setting the fastest lap in each at the Mount Panorama Circuit in Australia. Thanks to Turri's maximum points haul, Vauxhall and Italy also became champions.
Motorsports career results
Edit
Complete British Touring Car Championship results
Edit
Races in bold indicate pole position (1 point awarded just for first race) Races in italics indicate fastest lap (1 point awarded)
(Key) (results in bold indicate pole position; results in italics indicate fastest lap)
Career summary
Edit
Community content is available under
CC-BY-SA
unless otherwise noted.