The 1993 British Touring Car Championship season was the third British Touring Car Championship (BTCC) season which commenced on 28 March and ended on 19 September. The championship consisted of ten meetings, each held in the United Kingdom. Lorenzo Turri sucessfully defended his Overall and Manufacturer Drivers championships, winning his second title and Pekka Ylitalo won the Independent Drivers championship.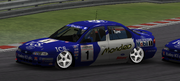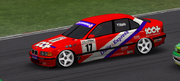 Changes for 1993
Edit
Rule changes
Edit
For 1993, Qualifying would change. In previous years, drivers would have a fifteen minute session to set their best time. From 1993, it would be a "one-shot" style qualifying session where drivers would have only one lap to set their qualifying time with hopes of mixing up the starting grid.
For 1993, the driver who sets the fastest lap of the meeting would not be awarded an extra point.
Team changes
Edit
2 New works teams entered the series: Team Mondeo (Ford Mondeo Si) and Renault Dealer Team (Renault 19).
Park Lane Toyota Junior Team gained works backing from Toyota and were no longer considered an Independent entry.
Vic Lee Motorsport withdrew from the championship at the end of 1992, as team owner, Vic Lee, was jailed for importing drugs into the UK within their race transporters.
Drivers changes
Edit
Ford made their intentions clear by creating the 'Dream Team' of current drivers champion, Lorenzo Turri, and 1991 champion, Roy Cop. Cop had followed Andy Rouse Engineering from Toyota to Ford. Ford, Turri and Cop looked the team to beat in 1993. Cop left the team and the series after round 4, Halil Sahin joined for Rounds 9 and 10 of the season.
Turri left Vauxhall Sport along with '92 teammate Kris Simton who joined the Toyota Works Team whose seats were vacated by Ford-bound Cop and Michael Sneath who made the switch to the new Renault Dealer Racing team.
Matt Hull returned to Vauxhall Sport after last driving for the team in 1991.
Joining Sneath at Renault was Johannes Meles who left Ecurie Ecosse. His seat was filled by American Eric Kukenberger from round 3. Fellow American, James Babcock, also drove for the team from round 5.
Current Independent Drivers champion, Mike Bell, joined the works Nissan team as David Osborne's team mate. Jaz Evered drove a third Primera from round 5.
Pekka Ylitalo left Peugeot Talbot Sport and joined Team Dynamics who had acquired the BMWs used by Vic Lee Motorsport in 1992 for the '93 season. Ylitalo was replaced by Wesley Brook who would partner David Todaro who remained at Peugeot for a second season. Tom Cinchy came in for the final 2 rounds of the season.
As Vic Lee Motorsport left the series, Josh Jones and Kevin Bolland were left without race seats for 1993. Jones left VLM to join Vauxhall Sport but Bolland left the series.
Alen Kopić returned to the series driving for Park Lane Toyota Junior Team who became Toyota's junior team. He was partnered with Bulgarian newcomer, Amer Hammoud.
Season summary
Edit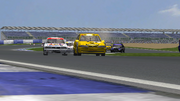 Silverstone played host to the opening round of the 1993
Super Touring Sim Racing
British Touring Car Championship
. Lorenzo Turri qualified on pole in the brand new Ford Mondeo and took a lights to flag victory in the opening round. Roy Cop, Turri's team mate in the Mondeo, took victory in the second race of the weekend. Mike Bell, who had a works drive for the first time in 1993 driving for Nissan, took victory in the final race of the meeting and left Silverstone leading the championship by 5 points over Turri.
Park Lane Racing made their first appearance in 1993 in Round 2 of the season at Donington Park with Bulgarian Amer Hammoud and Alen Kopić, who returned to the scene of his last appearance in the BTCC. At Donington, Turri took his second pole position of the season. But it was Cop took victory in the sprint race to heap the pressure on Turri and Bell ahead of him in the championship as they finished 2nd and 3rd respectively. However, in the feature race, there was a mix up in the pit lane as Cop was making his pit stop which caused the Belgian to finish down in 5th. Turri took the feature win with Bell 2nd, Meles 3rd and Simton in 4th. Leaving Donington Park, the championship couldn't be any closer as Turri and Bell were tied on 80 points with Cop a further 11 behind.
In Round 3 at Snetterton, Ecurie Ecosse Vauxhall made their first appearance in 1993 with American driver Eric Kukenberger. Cop answered back in the best way to his critics from the previous round by taking maximum points from the weekend with pole and the win and fastest lap in each race. Team mate Turri achieved two 2nd place finishes and a third whilst championship rival Bell had two 3rd place finishes and a second.  Leaving Norfolk, Turri was on 126 points with Cop and Bell both tied on 124. Meles in fourth was on 98 making the championship battle looking like a three-way fight for the honours.
In between rounds 3 and 4, there was an official test which took place at Snetterton where four teams (Ford,Nissan,Renault and Toyota) attended.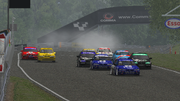 Next up was
Oulton Park
for Round 4 of the championship. Turri took his 3rd pole position of the season. Turri won race 1 with Cop (who also got the fastest lap of the race) finishing 2nd and Bell rounding out the podium in third. Race 2 was controversial with Cop, Bell and Meles all coming together during the race which enabled Turri to take the win. Cop finished second on track but was dropped to the back of the field after the stewards deemed him to be at fault for the collisions. This promoted
Michael Sneath
to 2nd for his best finish for the Renault team and his first podium since the 1992 round at Oulton Park. Simton took third and his second podium of the year to round out the top three. In Race 3, Bell managed to take his second win of the season to solidify his second place in the championship ahead of series leader Turri and 3rd place Sneath. Turri was leading the championship by 13 points over Bell as the series travelled to Wales the first ever time for round 5.
The main headlines heading into Round 5 at Brands Hatch was that 1991 Drivers Champion, Roy Cop, had quit Ford and left the championship with immediate affect. That meant the from round 5 onward, Ford would only have one car on the grid. There were also new arrivals on the grid. Jaz Evered would drive a third Primera for the Nissan team, with the team hoping to mount a championship challenge and back Mike Bell's championship push. And American James Babcock would drive a Cavalier for Ecurie Ecosse Vauxhall. It was back and forth between the championship contenders as Turri took Pole position, wins in races one and three and a second place in race 2 as Bell qualified 2nd, was runner up in races 1 and 3 and took the win in the second race. Rounding off the podium in race 1 was David Osborne with his first podium of the season, Sneath in race 2 as he seemed to have regained his early 1991 season form, and Meles in race 3 as he endured a testing weekend following a retirement in race 1.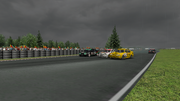 Round 6 of the championship, the series made its way over the border into Wales for the first time at the
Pembrey Circuit
in Carmarthenshire. A notable absentee from the meeting was Renault's Johannes Meles who would miss the round due to illness so for the first time Renault only ran one car. Lorenzo Turri once again, took the pole position in qualifying but wouldn't get his own way over the weekend. He took victory in races 1 and 3 but an off in race 2 dropped the Italian down the order and he would eventually finish 6th. This gave Bell an opportunity to close the gap at the top which he duly obliged with 2 fastest laps, 2 2nd place finishes and a victory in race 2. This closed the gap at the top of the championship to 13 points. Evered had a great meeting with a 2nd place finish in race to completing a Nissan 1-2 and a 3rd place finish in race 3. Sneath rounded the podium off in race 1 with Simton completing the podium in race 2. Race 2 happened to be the first time in the series' history that 3 drivers of the same nationality had shared a podium (Bell, Evered, Simton).
The STSR British Touring Car Championship made its way north to Knockhill in Scotland for Round 7. Turri made it 6 pole positions out of 7 in 1993 and took victory in race 1 along with the fastest lap. Bell finished 2nd with the returning Meles in 3rd. In race 2, Bell returned the favour with victory and fastest lap to close the gap at the top of the championship as Meles claimed 2nd and Turri rounding out the podium. However, Bell looked as if he was going to close the gap further when leading Turri in the third race, but lost ground at the chicane dropping him to 3rd behind Turri and Meles which is how the race standings finished up. Meles also claimed his first fastest lap in the series in the third race. After leaving Knockhill, Turri still led the championship from Bell, the gap being only 16 points with 8 races remaining. It was definitely a 2-horse race for the title as third placed Sneath was 96 points adrift of Bell.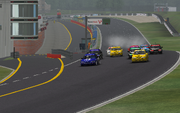 Brands Hatch hosted Round 8 of the championship on the longer Grand Prix circuit. Turri, once again took Pole Position, with championship rival Bell back in 4th. Turri won the first race of the weekend, but Bell was hit with technical issues meaning he could only finish 9th. And with Bell unable to start the 2nd and 3rd races, Turri was able to extend his points lead to 62 points after winning race 2 and finishing 2nd in race 3. Winning the third race was Meles, earning Renault's first win under the Super Touring regulations. His win and 2 second placed finishes, closed the gap to his team mate Sneath (who finished 5th, 3rd and 3rd) to only a point in the battle for 3rd in the championship. Osborne was the other podium finisher in the 1st race, once again proving he is a Brands Hatch specialist taking another podium finish at the Kent track.
The high speed Thruxton circuit played host to Round 9 and there was a shock in qualifying as David Osborne took his first pole position of his career alongside debutant, Tom Cinchy driving for Peugeot. Turri was back in third and was joined in the Ford garage by another debutant, Turkish driver Halil Sahin, he started 8th. The two drivers on the front row had problems during the race, Osborne spinning and finishing 3 laps down in 8th, with Cinchy retiring from the race. That lest championship leader Turri to extend his lead further at the top with yet another sprint race victory. Bell and Meles rounded out the sprint race podium. In the feature race, Meles took his second win of the season, firmly put his stamp on the 3rd place in the championship, just managing to hold off Turri, Osborne, Bell and Cinchy in a tightly fought race. By claiming 2nd place in the feature race, Turri clinched the 1993 Overall and Manufacturer drivers titles, becoming the first driver to win 2 BTCC drivers titles in the process.
Teams and drivers
Edit
The following 19 drivers and 9 teams took part in the 1993 British Touring Car Championship (BTCC).
Race calendar
Edit
Calendar changes
Edit
Championship standings
Edit
Points system
Edit
Points system
 1st 
 2nd 
 3rd 
 4th 
 5th 
 6th 
 7th 
 8th 
 9th 
 10th 
 11th 
 12th 
 13th 
 14th 
 15th 
Pole Position
18
16
14
12
11
10
9
8
7
6
5
4
3
2
1
1
Independent points are awarded to the top three drivers in each race as follows:
Points system
 1st 
 2nd 
 3rd 
30
20
10
Driver's Championship
Manufacturer Driver's Championship
Manufacturer Team's Championship
Independent Driver's Championship
Pos
Driver
SIL
DON
SNE
OUL
BRH
PEM
KNO
BRH
THR
SIL
Pts
1
Pekka Ylitalo
11
10
10
11
11
9
10
8
RET
RET
8
7
8
10
RET
5
6
9
8
6
7
8
7
8
8
8
690
Independent Team's Championship
Pos
Team
Driver
SIL
DON
SNE
OUL
BRH
PEM
KNO
BRH
THR
SIL
Pts
1
Team Dynamics
Pekka Ylitalo
11
10
10
11
11
9
10
8
RET
RET
8
7
8
10
RET
5
6
9
8
6
7
8
7
8
8
8
690
Community content is available under
CC-BY-SA
unless otherwise noted.